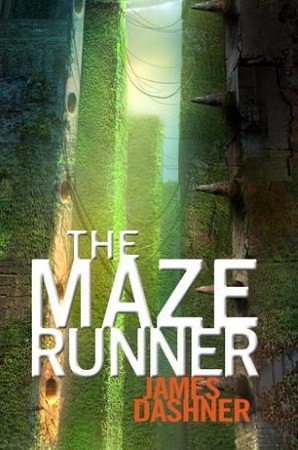 By James Dashner
Pages: 374
Publisher: Delacorte Press
When Thomas wakes up in the lift, the only thing he can remember is his name. He's surrounded by strangers--boys whose memories are also gone.
Outside the towering stone walls that surround the Glade is a limitless, ever-changing maze. It's the only way out--and no one's ever made it through alive.
Then a girl arrives. The first girl ever. And the message she delivers is terrifying.
What a fine piece of adventure. The story started of quite direct, but with all the made-up words it was a bit hard keeping up. But the author did a great job explaining the words, and I eventually learned them all. The story got me hooked at page 32 (I wrote it down), and that's very early in. I couldn't put the book down, It was so fast-paced.
Every chapter is very intense and eventful. The Maze Runner got a high suspense-level. It's never quite boring or even just okay. Every chapter is fantastic.
My heart-rate always went up to 180, and that had me very exhausted. I've never been THIS exhausted by a book. You never know what might happen, and that sets you on edge.
TMR is not only filled with suspense and events, but it's also darn hilarious. It's quite shocking, that a story about teenagers who are literally fighting everyday to survive can be hilarious.
What shocked me the most though was the ending. I didn't expect a sad ending but that's what I got...
But the sadness was forgotten from the time I read that WTF epilogue. It made no sense at all. I'm scared to even think about what it could have meant......
Sidor: 368
Förlag: Semic
När Thomas vaknar upp i en hiss minns han ingenting, bara sitt eget namn. När hissdörrarna öppnas möter Thomas en stor grupp tonårskillar, som liksom han själv har fått sina minnen raderade. De är inlåsta i ett stort område som omges av höga stenmurar.

Allt de vet är att dörrarna till en enorm labyrint som omger dem öppnas varje morgon, och varje kväll stängs de. Labyrinten myllrar av dödliga faror, och väggarna i den flyttas dessutom varje natt.
På något sätt måste de försöka hitta ut, men hur?

Då händer något oväntat - Teresa skickas dit. Hon är den första tjejen någonsin som kommit. Det verkar som om hon och Thomas känner varandra sedan tidigare. Vad betyder det? Kan hon vara till hjälp när de ska försöka ta sig därifrån levande? Och vem vet vilka svar som väntar där ute ?
Vilken fin äventyrsresa. Historien började ganska direkt, men med alla påhittade ord var det lite svårt att hålla reda på vad som hände, men författaren gjorde ett bra jobb med förklaringen av dessa ord, och jag lärde mig så småningom dem alla. Jag var fast vid The Maze Runner vid sida 32 (jag skrev ner det), och det är mycket tidigt. Jag kunde inte lägga ner boken, en riktig bladvändare!
Varje kapitel är mycket intensiv och händelserik. TMR har en hög spänning-nivå. Det är aldrig riktigt tråkigt eller bara okej. Varje kapitel är fantastiskt.
Mitt hjärta gick på 180 under hela läsningen, och det gjorde mig väldigt utmattad. Jag har aldrig varit så utmattad av en bok. Man vet aldrig vad som kan hända, och det är nästan obehagligt, på ett väldigt förunderligt sätt.
TMR är inte bara fylld med spänning och händelser, men det är också jäkligt humoristisk. Det är ganska chockerande, att en berättelse om tonåringar som bokstavligen kämpar varje dag för att överleva kan vara rolig.
Vad chockade mig mest var dock slutet. Jag förväntade mig inte ett sorgligt slut, men det är vad jag fick ...
Men sorgen glömdes från det att jag läste WTF epilogen. Den var helt oförståerlig. Vad kommer egentligen hända nu? Det får vi väl reda på i nästa bok....