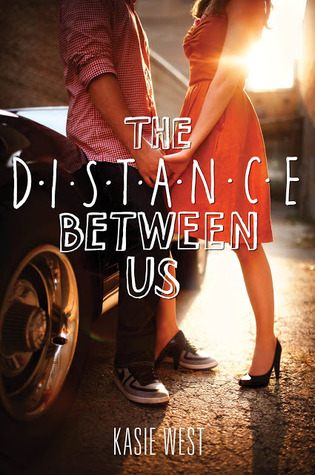 By Kasie West
Pages: 312
Publisher: Harper Teen
Seventeen-year-old Caymen Meyers studies the rich like her own personal science experiment, and after years of observation she's pretty sure they're only good for one thing—spending money on useless stuff, like the porcelain dolls in her mother's shop.
So when Xander Spence walks into the store to pick up a doll for his grandmother, it only takes one glance for Caymen to figure out he's oozing rich. Despite his charming ways and that he's one of the first people who actually gets her, she's smart enough to know his interest won't last. Because if there's one thing she's learned from her mother's warnings, it's that the rich have a short attention span. But Xander keeps coming around, despite her best efforts to scare him off. And much to her dismay, she's beginning to enjoy his company.
She knows her mom can't find out—she wouldn't approve. She'd much rather Caymen hang out with the local rocker who hasn't been raised by money. But just when Xander's attention and loyalty are about to convince Caymen that being rich isn't a character flaw, she finds out that money is a much bigger part of their relationship than she'd ever realized. And that Xander's not the only one she should've been worried about.
I dislike the poor vs rich talk that's going on in Caymen's head. She's very judgmental and I think it has a lot to do with her father. She believes that money changes people, and the richer someone is - the worse. Her mother is even worse. Her beliefs about rich people is so strong that she has even made her daughter believe them. And Caymen just believes it. She's never been friends with someone from the "other side of the road". As I said before, judgmental. And It's quite paradox actually, because she believes that rich people are the snobs and that they are the people who won't be friends with anyone, and she think they are the judgmental people, when in reality she is no better. I don't exactly know why an author would do something like that. It's an embarrassing mistake.
And then we have the male lead character - Xander.
Rich in all ways, but he doesn't fit in with Caymen's description of rich. Yes, that DOES make her all kinds of nervous.
He is nice, considerate and very caring. He has a big heart and I do see why anyone would fall for him. He cares about Caymen a lot. But because of her (STUPID) beliefs she just cannot accept it. She tries to make up all kinds of reasons for him to be playing her. Every slightest single little mistake he does she draw parallels with him being "beyond rich" and that's why he make so unforgetableeee mistakes. Le sigh.
Something I still don't understand is why they even like each other. Or more like, why HE likes her. He is too good for her.
The story ended very abrupt, like the author just couldn't wait to get it finished. I would have enjoyed another chapter. Xander made The Distance Be
tween Us enjoyable.