THIS IS THE LAST BOOK IN THE MORTAL INSTRUMENTS SERIES, DO NOT READ THIS REVIEW IF YOU HAVE NOT READ THE PREVIOUS FIVE BOOKS.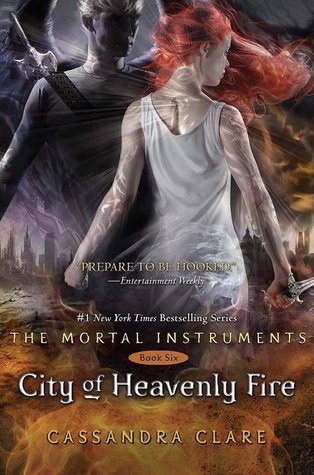 By Cassandra Clare
Publisher: McElderry
Pages: 733
Sebastian Morgenstern is on the move, systematically turning Shadowhunter against Shadowhunter. Bearing the Infernal Cup, he transforms Shadowhunters into creatures out of nightmare, tearing apart families and lovers as the ranks of his Endarkened army swell.
The embattled Shadowhunters withdraw to Idris - but not even the famed demon towers of Alicante can keep Sebastian at bay. And with the Nephilim trapped in Idris, who will guard the world against demons?
When one of the greatest betrayals the Nephilim have ever known is revealed, Clary, Jace, Isabelle, Simon, and Alec must flee - even if their journey takes them deep into the demon realms, where no Shadowhunter has set foot before, and from which no human being has ever returned...
Wow.
can we just take a moment to.... wow.
it's over. The Mortal Instruments. it's actually over.
I'm not going to talk about how much I love these characters because you can read about that in every other TMI review. I won't even talk about Cassandra Clare's way of writing, because I've mentioned how captivating it is a dozen times before.
I'm simply going to talk about my love for this whole saga. And how this end affected me.
They say that you can fall in love with someone at first sigh. That's what I did - with City of Bones. And for each passing day, my love just grew stronger and stronger.
TMI has taught me so much. I never knew that I could become so close friends with
fictional
characters, as if they were real. Which they are, to me.
I remember when I first came across City of Bones in my local library. The book was thick, I wasn't used to reading that heavy books. But something just pulled me to it. Something made me borrow it at take it home with me. That pull I felt towards City of Bones is something I've never felt for a book before. Like I was destined to find it.
No one taught me more about life or myself than Clary did. I could relate to Clary so much, and from the moment I got to know her I knew that she'd make me a better person. And she did. Clary taught me about sacrifice, and about love, and to fight for what you love. She taught me to never give up, ever. I've followed her through six books, and with each book she grew. She became this beautiful woman, and I too, grew with her. Just like a parabatai.
Every time I visit the shadowhunter world I feel loved and happy. That's where I go when I want to escape the real mundane world. That's my safe haven.
I will miss them all so so dearly, but I think there's no secret that I love Magnus Bane a that bit more. I have a thing for gay guys. And Magnus Bane is the sassiest f**king freewheeling bisexual of them all. He is probably the most beautiful character that Cassandra Clare has ever created. He is just so full of everything. May it be happiness, joy, adventure, wisdom or love. And he feels so deeply. He burns so bright, it's almost hard to look at him straight (HAHAHAHAHAHA).
his whole being is just so capturing. He is so hard to understand, and that fascinates me. I've never been so hooked to a character as I am to Mr. Bane. I will never forget him, for he will be my joy when I need it the most.
They all will. The whole city will. I can't believe it's over. It was a beautiful ending. One that I actually can live with.
Thank you Cassie, you gave me something I'll cherish the rest of my breathing life.
xoxo Lihini