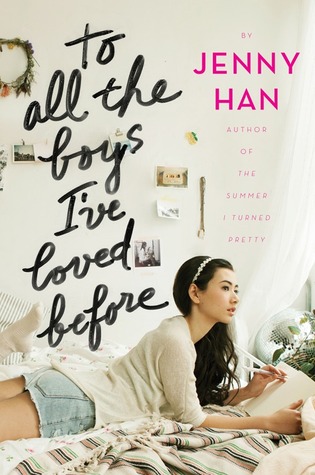 By Jenny Han
Pages: 288
Publisher: Simon & Schuster
To All the Boys I've Loved Before is the story of Lara Jean, who has never openly admitted her crushes, but instead wrote each boy a letter about how she felt, sealed it, and hid it in a box under her bed. But one day Lara Jean discovers that somehow her secret box of letters has been mailed, causing all her crushes from her past to confront her about the letters: her first kiss, the boy from summer camp, even her sister's ex-boyfriend, Josh. As she learns to deal with her past loves face to face, Lara Jean discovers that something good may come out of these letters after all.
LOVE LOVE LOVE LOVE OMG I'M IN LOVE WITH THE LOVE!

Uuugh, just thining back at this book gives me butterflies and heartache.

This book was perfection in it's most eternal form - youth.
I cannot get over how beautiful this is.

I've only been in love once before.
Once.

But what I felt for this book....What I FEEL. That's true love. I'm in love. I'm so deeply in love. Our time on this planet is counted, We're all going to die eventually and I will gladly spend all my days loving this book, that's how adorkable this book by Jenny Han is.

It's a true contemporary masterpiece filled with so much love and joy, I haven't been this happy in a loong time.

The characters are so freking loveable, even the ones you dislike, and the narrator is such a breezy, cute and big-hearted person, and she is so hilarious! I laughed trough the whole book, and she just makes my stone-heart all warm and fuzzy with her innocence. It's so freaking nice reading about a normal teenager once in a while, I mean, always reading about brave characters like Tessa, Katniss, Tris and Anabeth can make you feel a bit useless hehe....

All I can say is that this is definitely one of the best (if not the best) contemporary books I've ever read in my whole 18 year old long life. Way to go Jenny Han, can't wait for the sequel!