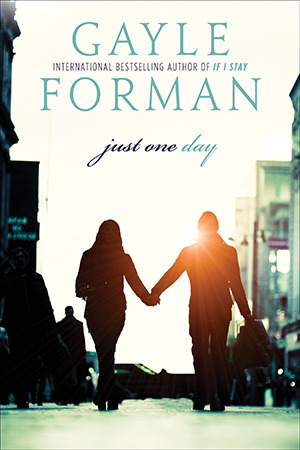 By Gale Forman
Pages: 400
Publisher: Speak
Allyson Healey's life is exactly like her suitcase—packed, planned, ordered. Then on the last day of her three-week post-graduation European tour, she meets Willem. A free-spirited, roving actor, Willem is everything she's not, and when he invites her to abandon her plans and come to Paris with him, Allyson says yes. This uncharacteristic decision leads to a day of risk and romance, liberation and intimacy: 24 hours that will transform Allyson's life.
One of the weirdest books I've ever read in my entire life.
And I'm old.
or at least I am according to my 5 year old cousin.
I've never met a more annoying and stuck up character than Willhem. He doesn't seem to care whether or not he hurts Allyson aka Lulu and is just so insensitive. She doesn't deserve what he did to her. At all.
Allyson is as nice as a person can get. Very lovely. I love her journey, it's very intresting to follow her trough this and see her develop as a character. It's a very important book about finding yourself, and Forman really emphasis the fact that we are always lost. We just handle it in different ways. Where some see unknown streets others see a new adventure.
I went in to this book expecting a nice light summer read, but that was not what I ended up with. This book got me thinking a lot about depression, which wasn't exactly he subject I wanted to think about on my vacation in Crete. But I don't regret reading the book.
This book makes me want to discover Paris all over again. And just discover the world with different eyes.
You should not read this book if you are looking for a funny contemporary book. This is not it.