Av Kerstin Gier
Sidor: 365
Förlag: Bonnier Carlsen
Gwendolyn Shepherd lever med sin stora och speciella familj i London. I väntan på att hennes malliga kusin ska göra sin första tidsresa, fördriver Gwen tiden med att plugga och hänga med sin bästa kompis efter skolan. Ända tills den dag
hon
plötsligt befinner sig i det viktorianska London i slutet av 1800-talet!
Gwendolyn finner sig snart indragen i hemliga planer och mystiska intriger som ett uråldrigt ordenssällskap under ledning av 1700-talsgreven av Saint Germain planerar. Tillråga på allt så utses den några år äldre Gideon, snygg men värsta stroppen, till hennes ledsagare för att hjälpa henne med de första tidsresorna.
En familj med många hemligheter... och den största hemligheten är Gwen själv.
Wow vilken grym bok!!!
Det förväntade jag mig verkligen inte. Jag trodde typ att den skulle vara seg och tung på ett sånt där fantasy sätt. I fantasy böcker är det alltid mellan liv och död. Här är det mer mellan skola och resa i tiden.
Den här boken kommer blow your mind, jag ÄLSKADE Gwendolyn och hennes vän Leslie, vissa tycker att de beter sig som 12 istället för 16 men enligt mig så är det alla andra 16åringar i fantasy böcker som beter sig som 22.
Den här boken kommer få dig att skratta rumpan av dig, den är verkligen superduperrolig!
With that said, Låna den, köp den, sno den, jag bryr mig inte; bara du läser den!
~~~~~~~~~~~~~~~~~~~~ English~~~~~~~~~~~~~~~~~~~~
By Kerstin Gier
Pages: 322
Publisher: Henry Holt
Gwyneth Shepherd's sophisticated, beautiful cousin Charlotte has been prepared her entire life for traveling through time. But unexpectedly, it is Gwyneth, who in the middle of class takes a sudden spin to a different era!
Gwyneth must now unearth the mystery of why her mother would lie about her birth date to ward off suspicion about her ability, brush up on her history, and work with Gideon--the time traveler from a similarly gifted family that passes the gene through its male line, and whose presence becomes, in time, less insufferable and more essential. Together, Gwyneth and Gideon journey through time to discover who, in the 18th century and in contemporary London, they can trust.
Wow what a awesome book!
I really did not expect that. I thought it would be tough and heavy the way fantasy book usually are, it's always between life and death. Here is more from school or time travel.
This book will blow your mind, I LOVED Gwendolyn and her friend Leslie, some think that they behave like 12 instead of 16, but according to me it's all the other 16 year olds in fantasy books that behave like 22.
This book will make you laugh your butt of, it's truly hilarious!
With that said, Borrow it, buy it, steal it, I do not care; just reading it!
||||||||||||||||||||||||||||||||||||||||||||||||||||||||||||||||||||||||||||||||||||||||||||||||||||||||||||||||||||||||||||||||||||||||||||||||||||||||||||||||||||||||||||||||||||||||||||||||||||
||||||||||||||||||||||||||||||||||||||||||||||||||||||||||||||||||||||||||||||||||||||||||||||||||||||||||||||||||||||||||||||||||||||||||||||||||||||||||||||||||||||||||||||||||||||||||||||||||||
Safirblå / Sapphire Blue (Ruby Red Trilogy #2)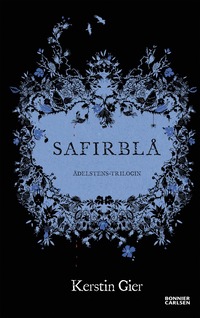 Av Kerstin Gier
Sidor: 392
Förlag: Bonnier Carlsen
Åh, Mmmmm och Mer! är det enda Gwendolyn kan tänka under den första kyssen. De börjar kyssas 1912 och slutar i nutid. Gwendolyn har en gen som gör att hon kan resa i tiden. Som tur är har även Gideon det. Kärleken börjar mitt i ett tidssprång, men när de är tillbaka sätts den på prov.
Gwendolyn inser att hon snarast bör ta sitt förnuft till fånga, inte låta hormonerna styra, om det alls ska bli någon kärlek, tidlös eller ej! Det gäller istället att fokusera på att rädda världen OCH lära sig att dansa menuett (och inget av det verkar enkelt). Det ordenssällskap som vill att Gwendolyn och Gideon hämtar blod från andra tidsresenärer för att läsa in dem i kronografen, verkar ha dolda motiv. Ska hon gå dem till mötes eller ... Så möter hon sin morfar när han var ung, och tillsammans börjar de smida planer!
Läste jag precis färdigt denna bok utan paus emellan? Jag tror jag gjorde det.

Vi får se London genom tiderna, vi tas med på baler och andra fester som ägt rum i historien, och Wow om jag inte njöt av varenda sekund!
Gwendolyn är en äkta drama queen, så hon gör allt mycket roligare! Man kan inget annat än o förundra henne som person, och avundsjukan som bubblar upp när hon får klä sig i alla dessa nygamla kreaturerna!
De mindre karaktärer i boken är minst lika roligt att läsa om, speciellt Leslie och Xemerius.
Vad jag dock inte är så klar med ännu är vad jag känner gentemot Gideon. Han förvirrar mig och Gwendolyn minst sagt.
Nu väntar jag spänt på att kunna läsa den tredje och sista delen!
~~~~~~~~~~~~~~~~~~~~ English~~~~~~~~~~~~~~~~~~~~
By Kerstin Gier
Pages: 362
Publisher: Henry Holt
Gwen's life has been a
roller-coaster
since she discovered she was the Ruby, the final member of the secret time-traveling Circle of Twelve. In between searching through history for the other time-travelers and asking for a bit of their blood (gross!), she's been trying to figure out what all the mysteries and prophecies surrounding the Circle really mean.
At least Gwen has plenty of help. Her best friend Lesley follows every lead diligently on the Internet. James the ghost teaches Gwen how to fit in at an eighteenth century party. And Xemerius, the gargoyle demon who has been following Gwen since he caught her kissing Gideon in a church, offers advice on everything. Oh, yes. And of course there is Gideon, the Diamond. One minute he's very warm indeed; the next he's freezing cold. Gwen's not sure what's going on there, but she's pretty much destined to find out.
Did I just finish this book without pauses? I think I did.
We'll see London through the ages, we included at balls and other festivities that took place in history, and Wow if I enjoyed every second!
Gwendolyn is a real drama queen, so she does everything much more fun! One can not but marvel o her as a person, and jealousy that bubbles up when she gets to dress in all these new-old cattle engines!
The minor characters in the book are just as fun to read about, especially Leslie and Xemerius.
What I'm not so clear with yet is what I feel towards Gideon. He confuses me and Gwendolyn to put it mildly.
I can not wait until I get my hands on the third and last book in this trilogy!
~stay smart, stay chic