Hi guys!
Been a long day for me today.
Had my national test in English today (writing part) and then I've been over at Elviras place all day baking and talking about boys (she is also known as the photographer for TeenBookaLover)
May is a bittersweet month for me. It's the last full month for the seniors in school, and then they will be gone. I will miss them so so much. I've grown so attached to them, and school won't be the same without them. My heart is bleeding. No for real, I think I just got shot.
Nevermind, I'm fine.
But apart from that we hav 2 birthdays this month! My friend Sebastian turned 18 today and Elvira will turn 18 in two days, so HAPPY BIRTHDAY to you guys <3
_________________________________________________________________________________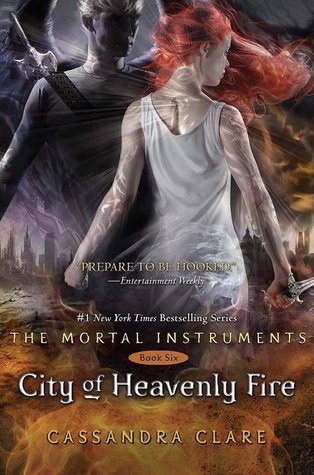 City of Heavenly Fire (The Mortal Instruments #6)
By Cassandra Clare
Pages: 733
Publication date: 27th May
ΕRCHOMAI, SEBASTIAN HAD SAID.
I am coming.
Darkness returns to the Shadowhunter world. As their society falls apart around them, Clary, Jace, Simon and their friends must band together to fight the greatest evil the Nephilim have ever faced: Clary's own brother. Nothing in the world can defeat him — must they journey to another world to find the chance? Lives will be lost, love sacrificed, and the whole world changed in the sixth and last installment of the Mortal Instruments
I AM SO SO SO SOSOSOSOSOSO SOOOOOOOOOOOOO NOT READY FOR THIS BOOK YET.
By Kami Garcia
Pages: 368
Publication date: May 20th
new series returns to the world of Beautiful Creatures. Some loves are cursed...others are dangerous.
Ridley Duchannes will be the first to tell you that she's a bad girl. She's Dark. She's a Siren. You can never trust her, or even yourself when she's around. Lucky for her, Wesley "Link" Lincoln can never seem to remember that; quarter Incubus or not, his heart is Mortal when it comes to Ridley. When Link heads to New York City to start a music career, Ridley goes along for the ride-and she has her own reasons. As if leaving small-town Gatlin for the big city, trying to form a band, and surviving life with a partially reformed Siren isn't hard enough already, Link soon learns he has a price on his head that no Caster or Mortal can ever pay
Might give it a chance...
By E. Lockhart
Pages: 240
Publication date: May 13th
A beautiful and distinguished family.
A private island.
A brilliant, damaged girl; a passionate, political boy.
A group of four friends—the Liars—whose friendship turns destructive.
A revolution. An accident. A secret.
Lies upon lies.
True love.
The truth.
What a poetic synopsis haaha, seems interesting!