By Tammara Webber
Published November 6th 2012 by Berkley Trade
Rescued by a stranger.
Haunted by a secret
Sometimes, love isn't easy…
He watched her, but never knew her. Until thanks to a chance encounter, he became her savior…
The attraction between them was undeniable. Yet the past he'd worked so hard to overcome, and the future she'd put so much faith in, threatened to tear them apart.
Only together could they fight the pain and guilt, face the truth—and find the unexpected power of love.
A groundbreaking novel in the New Adult genre, Easy faces one girl's struggle to regain the trust she's lost, find the inner strength to fight back against an attacker, and accept the peace she finds in the arms of a secretive boy.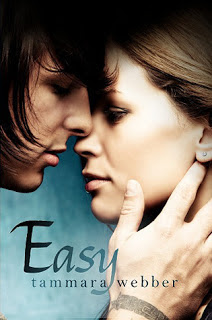 Easy By Tammara Webber Read this book in a single sitting, up in the air, on an airplane. It's a cliché story, girl meets "bad boy" and falls in love. But why am I willing to give a cliché story a 4, 5/5? Every single teenage romance book of this kind is just something you read for fun; the story doesn't affect you that much. And the book does not seem to have a meaning.
But this book, this book tackled a subject a lot of girls around the world and boys have to deal with every single minute. Being raped. The first thing that happens in the book is that the main character Jackie is on the verge of being raped by one of her boyfriend's friends. This ends quite badly and we get to follow how the society looks at you after something like that.
This story could easily be passed for a true story in my opinion because Webber succeeded in painting up our society's twisted view of how "we" see rapists and the people being raped. I remember one girl asking another girl who had been raped in the book "but you are not even a virgin, so why should be it be such a huge deal?" I got so furious, but after a second consideration, I decided that some people would look at it that way. Lucas is the "bad boy" but to be honest he is nothing like a bad boy, they just call him that occasionally. But he was other things indeed, he was smart, caring, and he was a lover. When he loved someone he loved deeply, and he knew that love could break you. In my eyes he was just a vulnerable teenager who covered it up with a tough appearance. To sum things up, I really like the ending, because the book started the way it ended, and that for me just showed how much Jackie had grown as a person. That was sort of the time were you just laid the book down and reflected.