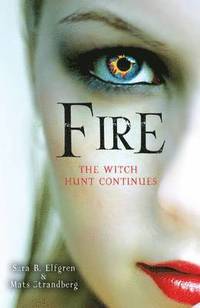 By Mats Strandberg and Sara Bergmark Elfgren
publ: Hammer
The Chosen Ones are about to start their second year in senior high school. The whole summer break they have held their breaths waiting for the demons' next move. But the threat shows up from another direction, somewhere they could never have foreseen. It becomes more and more obvious that something is very, very wrong in Engelsfors. The past is woven together with the present. The living meet the dead. The Chosen Ones are tied even closer together and are once again reminded that magic cannot ease unhappy love or mend broken hearts...
I'm still trying to figure out how to speak properly. Or even how to think coherently would be a good start. I have no Idea where to begin. Let's begin from the beginning.
This is the second book in the Engelfors trilogy.
I never read books written by Swedish authors because I don't like to read books that take place in towns I grew up in etc., but I had to make an exception when it came to this trilogy because never had a book gotten so much attention from everyone, young old, in this country.
And I was slapped in the face with a big "amazing book" hand.
The second book was no different. Only this time the hand was stronger that slapped me.
To say that this book was amazing wouldn't do this book fair, because it was so much more than that. This book was mind-blowingly utterly perfect.
These teenagers are no special. They struggle with finding themselves, they struggle with real family issues a lot of people out there can relate to and they are all under the different facades they have put up insecure. They are lost in the long tunnel we call life, but at the same time they learn the importance in having close relationship with people they can trust.
Minoo, Vanessa, Anna-Karin, Ida, and Linnea are all so different from each other, but they love each other no matter what.
They are ordinary teenagers with the world on their shoulders. Literally.
One of my favorite characters apart from the main characters has to be Viktor. I'm not going to tell exactly WHO he was, but I really understand him. I do.
To sum things up, I loved this book. It was phenomenal. Other witch book will have to make a run for their money because the Engelfors trilogy is here to stay.